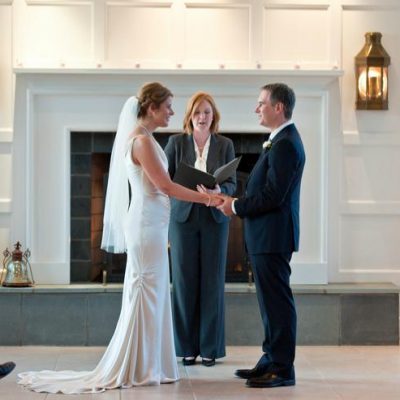 "When my (now) husband and I got engaged, we thought it would be wise to participate in premarital counseling. Because we do not belong to a church, we opted to find a counseling service as we prepared for our wedding…Emily Cook was exceptional from the start. We met for our initial session and felt so comfortable with and impressed by Emily that we signed up for five premarital sessions. Emily was compassionate, intelligent, and helped us to cover many critical topics in a systematic way prior to our big day. We had such a positive experience with Emily that we asked her to be the officiant at our wedding! Again Emily did an outstanding job. She met with us apart from our premarital sessions and worked with us to create a warm and personal ceremony. It was great to have someone who had gotten to know us as a couple to preside over our wedding. We thought she did a wonderful job and our guests did too."
K & K, married December 2011
Congratulations on your engagement! We hope you and your fiancé are having fun attending vendor appointments, checking off your to-do lists, and enjoying conversations about the big day. This is an exciting time!
Our practice offers both premarital counseling and wedding officiant services to help make your wedding day everything you dream it will be. Read more about these services and then contact us. We want to a part of your journey towards marriage!

"Let there be spaces in your togetherness, And let the winds of the heavens dance between you. Love one another but make not a bond of love: Let it rather be a moving sea between the shores of your souls. Fill each other's cup but drink not from one cup. Give one another of your bread but eat not from the same loaf. Sing and dance together and be joyous, but let each one of you be alone, Even as the strings of a lute are alone though they quiver with the same music. Give your hearts, but not into each other's keeping. For only the hand of Life can contain your hearts. And stand together, yet not too near together: For the pillars of the temple stand apart, And the oak tree and the cypress grow not in each other's shadow."
― Kahil Gibran
Have you considered that planning a wedding and planning a marriage are two different things? Long after the reception, you'll be building a life with your partner.
Premarital counseling in Bethesda, MD helps you and your partner to:
celebrate your strengths as a couple and encourage you to apply those strengths to areas where you may be struggling
process family background issues that may impact your relationship now or in the future
address financial planning and budgeting
focus on personal and family goals, creating and defining a unique "couple culture"
discuss any other tricky issues, such as wedding stress, work-life balance, cohabiting, or sex and intimacy
Read more about the benefits of premarital counseling. Our premarital counselors would be honored to talk with you about your relationship strengths and how you can deepen your connection as you prepare for marriage.
Also, read a recent blog post about premarital counseling in Bethesda, MD!
Are you finding it easier to choose your wedding venue or florist than your ceremony officiant? Many engaged couples in the DC-metro region feel that way!
When you choose Dr. Emily Cook as your wedding officiant, you'll receive:
An experienced officiant who will listen to your ceremony ideas and bring them to life
An officiant who knows her role is to be part of the supporting cast of your wedding– a wedding where your new marriage is the true star
Careful crafting of a custom-written ceremony text, delivered with grace, professionalism, and light-hearted humor
Guests at your ceremony who may laugh or cry, but who will never feel bored
A ceremony that enhances your wedding style, honors your values, and compliments your wedding day timeline
And, of course, you'll also receive tons of suggestions for ceremony readings and rituals, assistance with writing personal vows, and marriage license submission to the appropriate MD or DC courthouse.
Read more about choosing Dr. Emily Cook as your wedding officiant. Dr. Emily Cook officiates personalized wedding ceremonies in Maryland and Washington, DC. She would be honored to stand with you on the first day of your new life together as a married couple.
Read Our Reviews from past clients
Give us a call, we're looking forward to hearing from you!