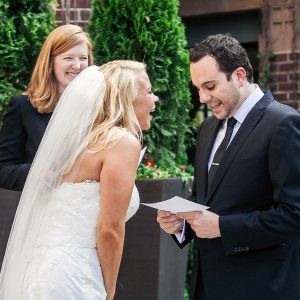 As a wedding officiant who is also a premarital relationship coach, Dr. Emily Racic helps engaged couples navigate many aspects of wedding planning– from personalized ceremony details to a vision for your married future.
The words of the ceremony and the manner in which they are delivered are so important. Emily does it with grace and professionalism– with a dash of light-hearted humor.
Dr. Racic performs all types of ceremonies, including secular, interfaith, and spiritual. Most importantly, she works with you so that your ceremony is a reflection of your unique relationship and values. She can help you create a wedding ceremony that is personalized and meaningful.
Dr. Racic performs personalized wedding ceremonies in Maryland and D.C. for both heterosexual and same-sex couples. Unfortunately, she cannot perform wedding ceremonies in Virginia.
Favorite Maryland Wedding Venues // Maryland Wedding Officiant
Chesapeake Bay Beach Club, Stevensville
Springfield Manor Winery, Thurmont
Overhills Mansion, Catonsville
Oxon Hill Manor, Oxon Hill
Antrim 1844, Taneytown
Elkridge Furnace Inn, Elkridge
Historic London Town & Gardens, Edgewater
Rockwood Manor, Potomac
Jefferson Patterson Park, St. Leonard
Baltimore Inner Harbor
Favorite Washington DC Wedding Venues // DC Wedding Officiant
Ronald Reagan Building
Dumbarton House, Georgetown
Private Home, NW Washington
101 Constitution Ave (Rooftop)
Four Seasons Hotel, Georgetown
Whittemore House, Dupont Circle
Contact Dr. Emily Racic, Wedding Officiant today for your free consultation!
When you choose Dr. Emily Racic as your wedding officiant, you're choosing:
An experienced officiant who will listen to your ceremony ideas and bring them to life
An officiant who knows her role as part of the supporting cast to your wedding–a wedding where your new marriage is the star
Careful crafting of a custom-written and personalized ceremony text, delivered with grace, professionalism, and light-hearted humor
Guests at your ceremony who may laugh or cry, but who will never feel bored
A ceremony that enhances your wedding style, honors your values, and compliments your wedding day timeline
And, of course, you'll also have access to tons of resources and suggestions for ceremony readings and rituals, receive assistance with writing personal vows, and submission of your marriage license to the appropriate MD or DC courthouse. Please contact Emily for more information about the specific services that are included in each officiant pricing package.
Praise from couples who chose Dr. Emily Racic for premarital relationship coaching and/or wedding officiant services:
Read
View reviews:
in
Pricing Information for Wedding Officiant Services
A high-quality wedding officiant is an important part of any wedding day– and any wedding budget. You want a wedding officiant who is experienced, personable, and warm. You want a wedding officiant who can provide direction for your ceremony, but who is also open and welcoming to your unique vision. You want a wedding officiant who sets the right tone during the ceremony so that a guest's experience flows seamlessly into the rest of the wedding events. By choosing Dr. Emily Racic, you can be confident that you are choosing the kind of wedding officiant and premarital relationship coach you've been searching for.
Dr. Racic has thought carefully about the value of her wedding officiant services. She offers three officiant packages at different price points. Please contact Dr. Racic to schedule a complementary consultation to get to know her and discuss your special day! She looks forward to working together to create a memorable, personalized, and meaningful wedding ceremony.
Premarital Relationship Coach + Wedding Officiant = A Unique Marriage Preparation Experience