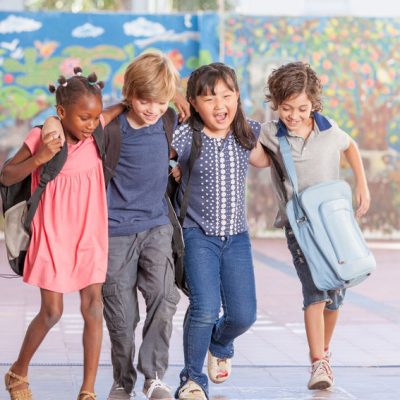 Play Therapy in Bethesda, MD
Through Play Therapy at Capital Crescent Collective, you and your child will be able to heal from adverse life experiences, reconnect and improve your bond, and build skills to handle future problems that may come your way. Using this model of therapy, we believe that you and your child have an inherent ability to heal and we are excited to foster that healing with you. We have passionately crafted a special space within our office in downtown Bethesda, MD to meet your child's needs. In it, you will find a wide variety of activities and toys picked carefully to facilitate healing play. In meeting our space, you may even become tempted to join in the play yourself. In fact, we encourage that you do!
Meet Our Child/Adolescent Therapist
Anna White is a licensed clinical marriage and family therapist and a Certified Clinical Trauma Professional (CCTP). She is passionate about helping children and their families learn how to cope with difficult feelings, navigate stress, overcome challenges at home or school, and restore confidence in themselves. Her years of experience make her uniquely qualified to make a difference in your child's life. You can read about Anna on her profile page and reach out for a telephone consultation to learn more.
How Can Play Help My Child?
Therapy of all types works best when it meets the client where they are. Traditional therapies for older adolescents and adults is often referred to as "talk therapy", and relies heavily on processing problems using parts of the brain that are simply not developed yet in children. Play therapy, however, relies on the parts of the brain that hold our imagination, authentic expressions of emotion, implicit emotional memories, and nonverbal communication, all of which are ready and able to do the work for your child! Play therapy works on three levels:
Play therapy will provide a safe and comfortable space for your child to work out problems at their own pace and with their most natural language — play!
Certain play therapy activities will provide practice at important life skills, such as problem solving, frustration tolerance, emotion regulation, and empathy.
Family play therapy provides your child with warm, deeply meaningful experiences of connection with you, improving their sense of security and therefore their ability to interact with the world.
What Problems Can Play Therapy Help With?
Play therapy may help your child and your family with such issues as:
Tantrums
Anxiety
Depression
Divorce
Trauma
ADD or ADHD
Stress arising from sibling's challenges (e.g., sibling behavioral problems, sibling medical problems)
Social impairments
Insecure attachment
Family conflict
School pressures/demands
Aggression
Behavioral difficulties
Low self-esteem
Abuse and neglect
Stress arising from medical conditions and chronic illness
Communication
Grief and loss
Cultural differences
Stress arising from major life changes (e.g., new house, new school, arrival of a new sibling)
Self-harm
Interested in learning more about play therapy? Read more about about what to expect from play therapy for your child.
Read more about how to get started with play therapy in Bethesda, MD. Or contact us today, we're looking forward to hearing from you.