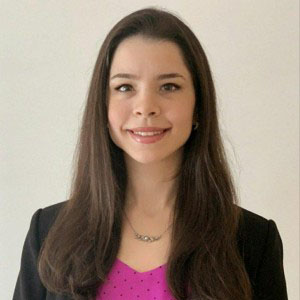 Staff Therapist, Individual Therapist, Couple Therapist, Family Therapist, Premarital Counselor // Licensed Graduate Marriage and Family Therapist, Bethesda, MD
Clinical Degree: Couple and Family Therapy, University of Maryland
Expertise: Relational issues, Attachment issues, Co-parenting, Grief, Substance abuse, and Major life transitions
Available Schedule: Wednesdays (virtual only) and Thursdays (virtual or in person)
Available Locations: MD
Prepare/Enrich certified: Yes
50 minute therapy rate: $185
About Samin Panahi (she/her/hers)
Samin is a licensed Marriage and Family Therapist who has dedicated her career to helping people of all ages navigate the challenges of life. With her empathetic mature and excellent listening skills, she has created a reputation as a companionate therapist who genuinely care about her clients.
Samin's therapeutic approach is grounded in a deep respect for her clients and a belief in their ability to find their own truth and path forward. She understands that everyone's journey is unique and her role is to guide her clients on their path of self-discovery. She creates a safe and supportive space where clients can explore their thoughts and feelings, identify their strengths and challenges, and develop effective coping strategies.
Samin uses a variety of techniques and approaches to help her clients gain insight and perspectives that lead to growth and healing in their relationships and life. Her main theories of work and approaches include but are not limited to Family Systems, Attachment, Emotionally Focused Therapy and Experiential Theories, Cognitive-Behavior Therapy, and Mindfulness-based models.
Samin received her Master's degree in couple and family therapy from the University of Maryland, College Park. Prior to becoming a therapist, Samin worked as a researcher in the Pain and Palliative Care department at the National Institutes of Health (NIH). During her time there, she worked with a diverse patient population that included seriously ill individuals and those struggling with alcoholism. This experience gave her a deep understanding of the physical and
emotional toll that chronic illnesses and addiction can have on individuals and their loved ones, and how therapy can be crucial during these times.
Finally, Samin is a lifetime learner and constantly seeks out new knowledge, research, and skills to enhance her practice and always welcomes feedback to make therapy useful for her clients!
In Samin's words
"Between stimulus and response there is a space. In that space is our power to choose our response. In our response lies our growth and our freedom." Viktor Frankl
Many of us fail to recognize the power we own to respond to what is happening in life. One of my superpowers as a therapist is to help you recognize that "space" and be able to choose their "response."
During my time as a therapist, I have gained extensive experience through working with a diverse range of individuals, couples, and families with a range of problems from anxiety, depression, self-esteem issues, relational issues, attachment issues, co-parenting, grief, substance abuse and major life transitions. I apply a systemic perspective to my therapy practice and take a client-centered approach to create for you a safe, warm, and non-judgmental space.
I believe that every family or couple or individual is unique, and while I incorporate most of these theories into each session, I will tailor my approach to meet your needs. I believe in you. And I look forward to helping you grow and reach your maximum potential."
Emily's Endorsement
"Samin helps her clients feel appreciated and understood. She believes that each individual, couple, and family deserves respect and empathy—and that belief comes through strongly in her work with clients here at Capital Crescent Collective. She balances gentleness with motivation, is a curious and open minded listener, and brings cultural sensitivity to her work. Samin's supportive nature helps her clients grow self-awareness, build problem-solving skills that help them tackle their specific difficulties and challenges, and reach their goals in therapy. We're honored to have her on our team!"
Education
MS, Couple and Family Therapy, University of Maryland
Post-bac Fellowship, National Institutes of Health
BS, Psychology, University of Maryland Baltimore County
Maryland Licensed Marriage and Family Therapist #LGM947, licensed since 2023
Ready to get started with expert family therapy in Bethesda, MD? Reach out to Samin Panahi for a consultation, she's looking forward to hearing from you.
Samin Panahi, LGMFT is an independent contractor of Capital Crescent Collective (Emily Cook Therapy LLC) and not an employee.